Thomas: Help fund raise for PACC, ride in El Tour
Fresh air, a sense of accomplishment, the satisfaction of health and happiness and assisting others. (Or why I, and you should ride with Friends of PACC El Tour Team / And why I volunteer at PACC)
Hello all fellow riders! I'm Dennis Thomas. I have been a road cyclist for about four years, and a volunteer at PACC for three years. Two years ago, I joined the Friends of PACC board of directors. I am a dog walker, a medical foster Dad, a member of the finance committee and governance committee.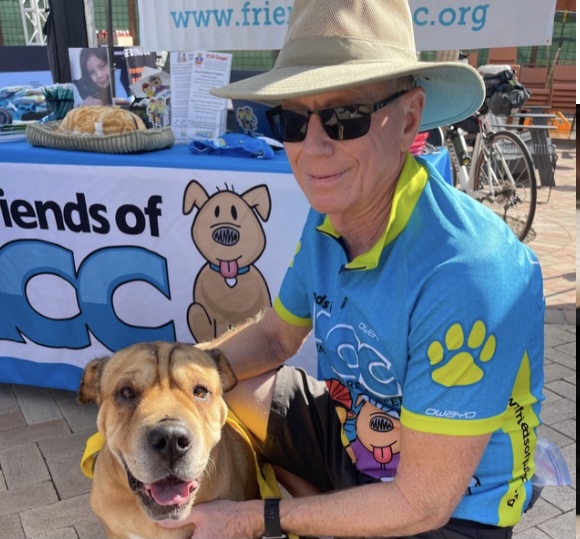 Two things, well, three things make a perfect start to my day and leave me a cheerful outlook. A brilliant Tucson sunrise, a peaceful yet hard ride and spending time walking dogs at PACC. All these things bring a smile to my face and a spring in my step (and an extra push in my pedal.
What else furthers that feeling of satisfaction! Knowing that my fundraising efforts on the El Tour Friends of PACC team will help us meet the needs of the animals in need at Pima Animal Care Center. From specialized equipment to extra special veterinary care, to assisting the medical foster of animals just looking for love.
The pictures are two of my favorites: Roxie, a stray that was reunited with their owner; and  there is Winkie, a recent medical foster. What feels better than completing my 57 mile ride this year? Having a loving "lap dog" like Winkie, giving you love in return.
Ride Safe, Enjoy the Ride, and Ride with the Friends of PACC team! To register for PACC visit here: Help PACC.