Tucson Girl Scouts have been part of El Tour for 20 years; Catch them at Station 11
El Tour would be nowhere – and clearly not in its 38th year – had it not been for the 100s if  not 1,000s of volunteers over the years. We love them and are indebted to them.
You'll see one group of volunteers at Aid Station 11 (13 miles from the finish on Old Nogales Highway)  where there will be – wait for it – yummy Girl Scout Cookies and more!
They'll have al-time favorites like shortbread trefoils, lemon cookies and "we even double up the peanut butter on our do-si-dos," Sorensen said. "A couple years ago, we started bringing the gluten free Girl Scout cookies and people are so appreciative of those! We also have hard boiled eggs, potatoes, pickles and pickle juice, and whatever great ideas our volunteers come up with."
It's one of our favorite stops for obvious reasons for the last 20 years. Yes, that's how long the Girl Scouts have been part of El Tour.
"This year we are at station 11," said Amy Sorensen. "This is the first time we've been this far into the ride, so looking forward to the challenge!"
So are we. And we appreciate all you do for us.
At Station 11 throughout ride day, you'll see anywhere from 15 to 25 Girl Scouts and their family members, manning the station. They range from the Daisies (5 year olds to Ambassadors 18 year olds).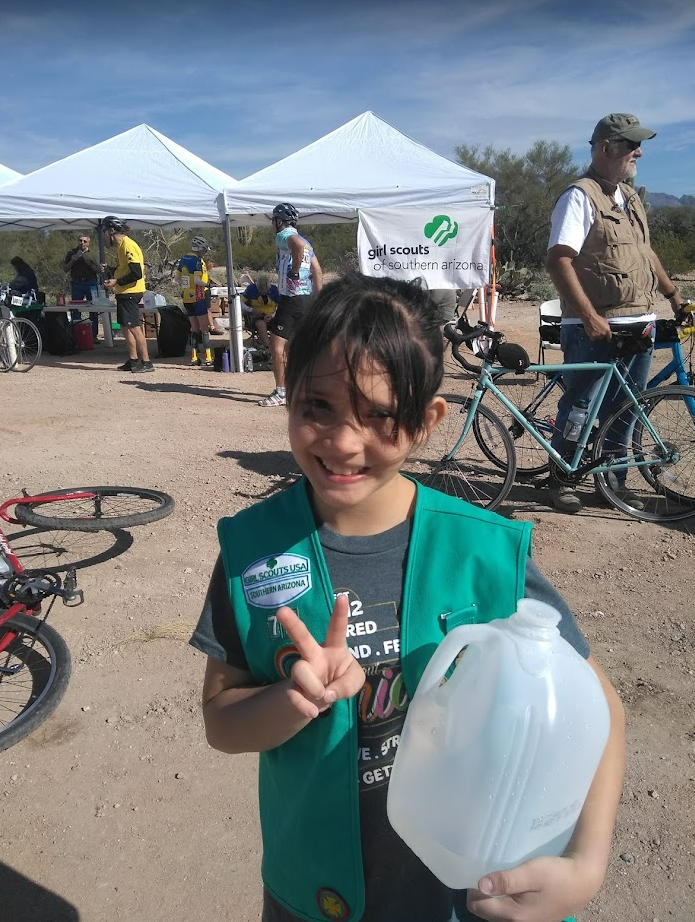 "Many times, we've had family members or Girl Scout alumni stop in and it is always a blast to see them," said Sorensen, who has volunteered for the past four years. "We have some very dedicated volunteers. A couple of years ago, one of our high school-aged scouts had a school assignment to take care of her "robot baby" the weekend of the ride, so we all tried to help her out making sure she passed her class and was able to keep up with the riders as well."
It takes a village after all … and a team of dedicated Girl Scouts, of course. And that's what they've been to El Tour – dedicated.
"Girl Scouts have always been very involved in our communities," she said. "When we are supporting the El Tour de Tucson riders we are supporting them and all the community organizations they are riding for so it's a great opportunity. We also love to meet and talk to all the riders, support staff and other volunteers we meet along the way."
"Thanks to the other leaders who have kept this going through the years," Sorensen said. "We are hoping to make you proud!"