Vegas cyclist Morgan: 'I was in such awe of El Tour that I want to come back'
When it comes to El Tour de Tucson, cyclists come from everywhere. Of the more than 5,000 many come from the Southwest, where cycling is premium and the weather pure in the winter.
Robert Morgan, 57, is one of those. He'll be coming in from Las Vegas, joining another likely 120 plus from southern Nevada. After all, Tucson is just a short six-hour drive to get here for some of the best cycling in the country during the winter months.
Morgan can't wait to ride El Tour for the second time.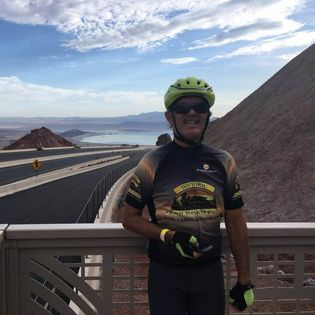 "I loved this ride," he said on the reason he's coming back for Round 2. "I did the Park to Park Extreme 100 here in Nevada in 2018 and it was a hard ride and not too well organized. I was in such awe of El Tour (in 2018) that I want to come back."
And so he will be back, bringing his son and wife along. They, however, won't ride but will play tourist in Tucson. And that's good too, given the economic impact of the ride in Southern Arizona.
They'll enjoy the downtown Fiesta while Morgan rides. He considers himself a regular cyclist (most of the cyclists in El Tour are). He logs about 2,500 miles a year, but logged more than 3,000 in the last year.
He does all the miles in and around Vegas, 90 percent of it around his house.
"A few times a year I drive out to Red Rock Scenic loop and ride up the four miles to the top," he said. "Last year it was closed so they allowed me to ride in the exit to the entrance, which was closed so I was able ride back up and down. Lots of fun."
And, of course, there's lots of thinking going on. Cyclists know the drill. Get on the bike and ride – and think.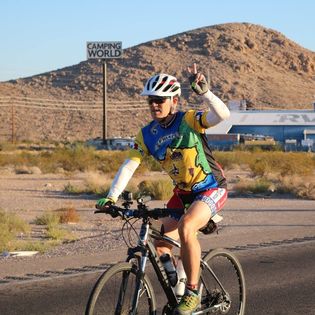 "I think of anything to everything: sports, family, work, the stupid wind the does not quit and can I beat another E-Bike that just passed me," he said. "I also think about Strava challenges. A lot of the time I am planning out my errands I have to do and how to fit another ride it."
Eventually it all goes into the Excel spread sheet he created for himself to help monitor his rides.
"When I started cycling in 2014, I was a size 38 and weighed 225lbs," he said. "Now I am 160 pounds and a size 31 or 32, so I focus on keeping my weight off and what I should be eating and what I should not be eating. I also set goals of new routes, new hills. I want to climb Mt. Lemmon in Tucson. And I want to cycle from Vegas to Death Valley."